Exteriors
NuTowns features contemporary elevations utilizing stone, brick, precast, stucco and aluminum, as per applicable elevation
Architecturally controlled streetscape and co-ordinated exterior colour schemes, materials and elevations
Energy Star, Low-E Argon black vinyl casement windows or thermo glazed fixed windows throughout excluding basement windows
Screens on all opening windows
Modified Bitumen flat roofing system providing superior protection against water leakage
Maintenance-free aluminum soffits, fascia, eavestrough and downspouts, as per elevation
Covered front porch
Contemporary exterior black coach light at front entry and garage, as per plan
Exterior glazed panel front entry door featuring a brushed nickel package with deadbolt lock as per plan
Contemporary sectional roll-up garage door, with decorative glazing or solid doors, as per elevation
Direct insulated access door from garage to house with deadbolt and closer, if grade permits, and as per plan (garage to interior door to house, if applicable, may be lowered, relocated or eliminated to accommodate drainage as per grading, siting or municipality requirements, if applicable)
Garage walls and ceiling to be drywalled
Two freeze resistant exterior hose bibs, location to be determined by Vendor (one in front and one in rear)
Balconies to feature black railing with glass inserts, as per plan.
Exterior weather proof electrical outlet with ground fault interrupter on balcony or patio (excluding egress balconies required by grade)
Garden door where applicable, as per plan
Contemporary designed municipal number
Driveway, as per plan, to be paved by Vendor at Purchaser's expense (subject to construction schedule)
Landscape package consisting of sodded front, planting and concrete pavers, as per approved landscape plans
Interiors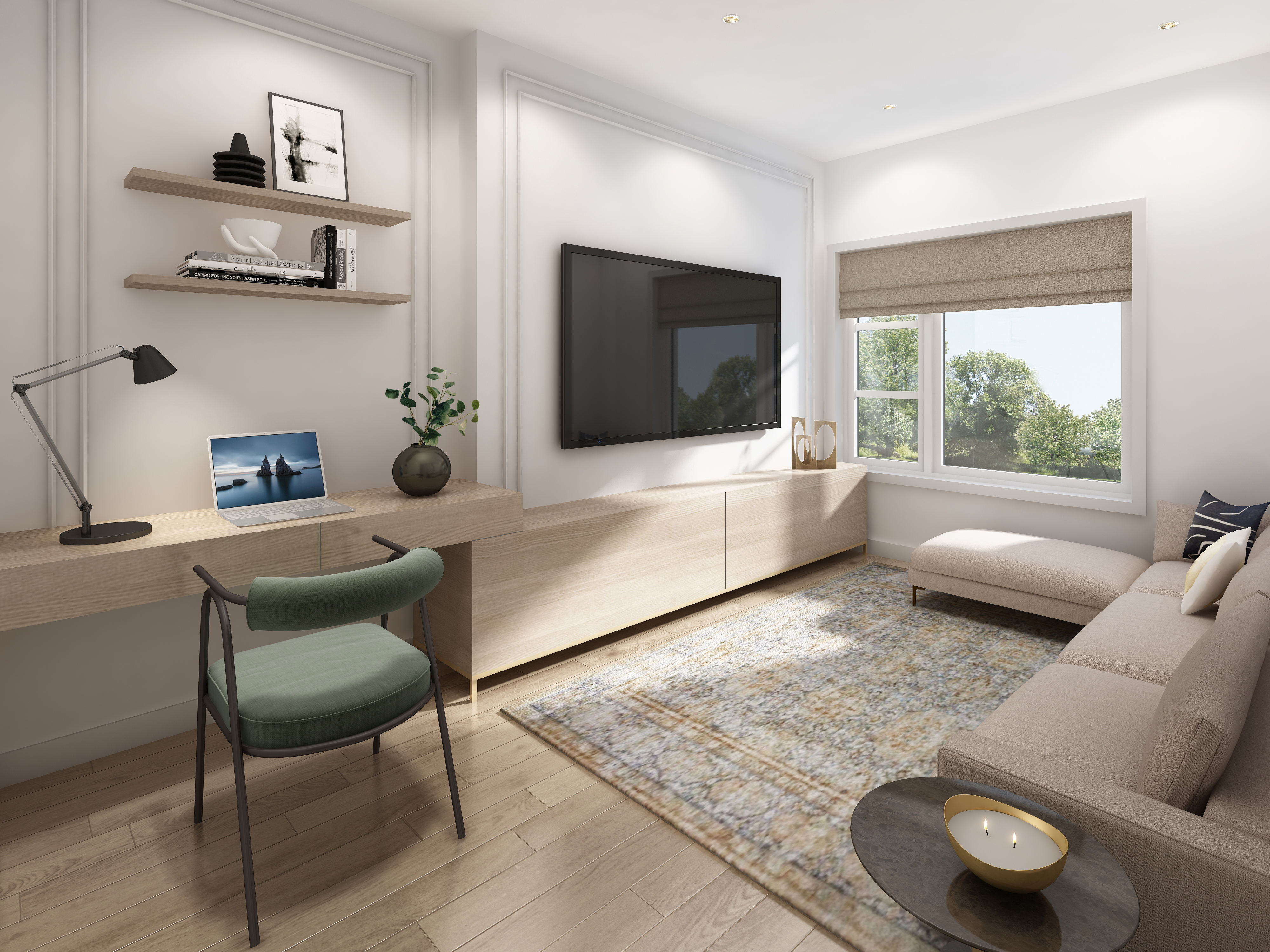 Nine (9') foot ceilings on second floor (except in powder room and/or laundry room and where architectural design, mechanical or duct work requires ceiling height to be lowered), as per plan
Eight (8') foot ceilings on first and third floor (except in powder room and/or laundry room and where architectural design, mechanical or duct work requires ceiling height to be lowered), as per plan
Smooth ceilings on second floor. First and third floor ceilings to be stipple sprayed with smooth borders except for bathrooms and laundry room, which will be smooth finished.
Natural oak veneer staircases from first to third floor. Stairway railing to be mounted on natural oak nosing in platform areas, as per plan (excluding unfinished basement staircase)
Natural oak handrails and pickets from first to third floor, as per plan (excluding unfinished basement staircase)
Pre-finished 3/4" x 3 1/8" natural oak engineered flooring throughout second floor, including kitchen and breakfast area (excluding tiled areas), as per applicable plan
Coordinated 4 1/4" baseboards with 2 3/4" trim on walls, windows and doorways throughout in all finished areas
Ceramic tile flooring in foyer, powder room, all bathrooms, and laundry room from Vendor's standard samples, as per applicable plan
Quality 40 oz. broadloom in all finished areas on first and third floor (excluding tiled areas) from Vendor's standard samples
Quality underpad in all broadloom areas
Interior doors with brushed nickel finish lever handles (excluding entry doors) with painted hinges
Walk-in closet(s) and linen closet as per plan; ventilated white wire shelving in all closets
Free standing laundry tub, as per plan
Hot and cold taps for laundry tub
Interior wall surfaces are sanded, primed and finished in matte finish quality latex paint; trim and doors finished with cool white, semi-gloss paint; choice of one wall colour throughout from Vendor's standard samples
Dryer vented to exterior
Kitchens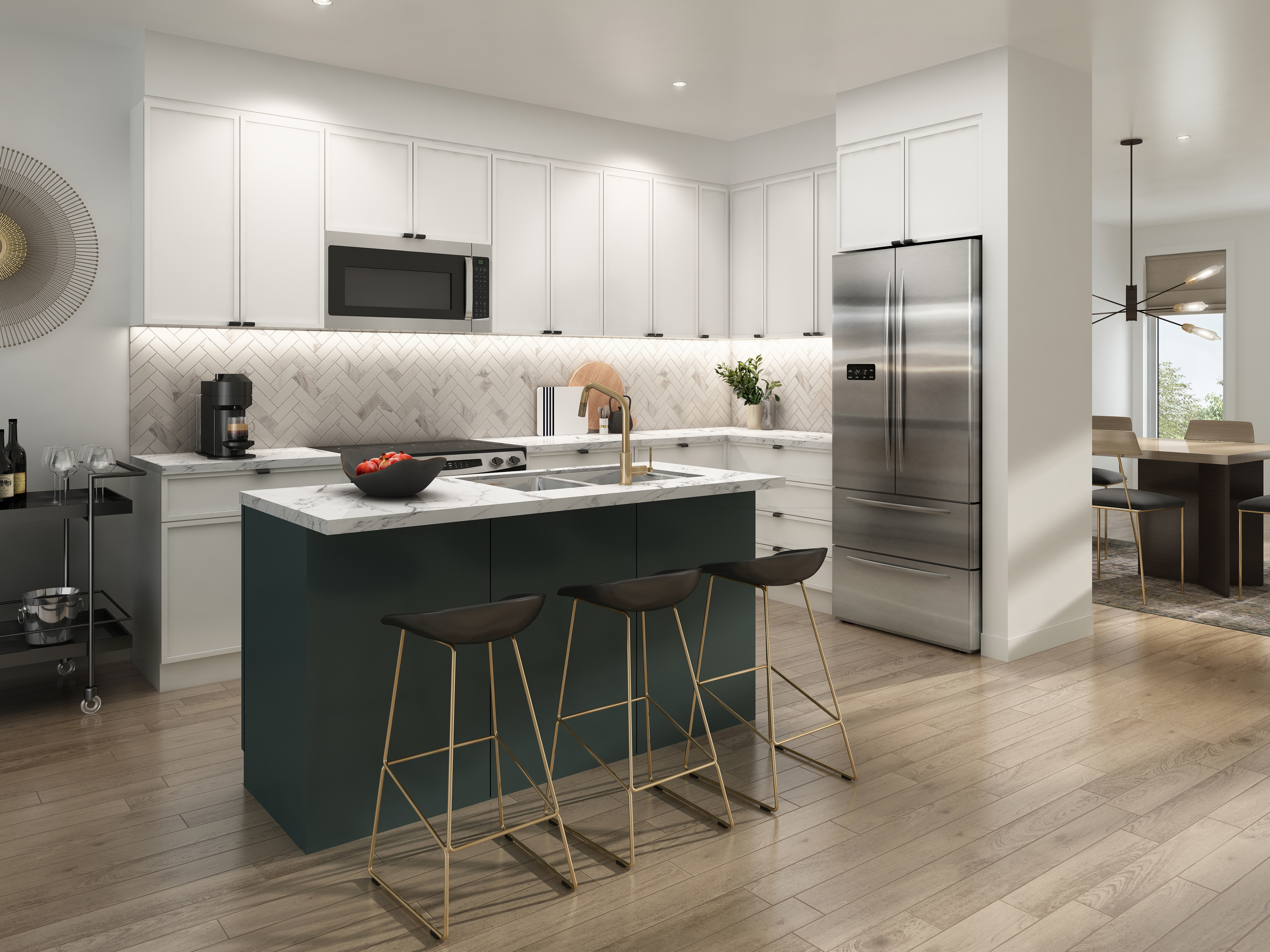 Upgraded kitchen cabinetry with extended uppers including traditional and contemporary options with choice of color and door style (from Vendor's standard selections)
Granite or quartz countertop (from Vendor's standard selections)
Undermount stainless steel single bowl sink
Single lever integrated faucet with pullout spray
Walk-in or built-in pantries, serveries, breakfast bars and kitchen islands, as per plan
White two-speed exhaust hood fan in kitchen ducted to exterior (6" vent)
Heavy-duty wiring outlet for stove
Dishwasher space provided in kitchen cabinets with rough-in wiring and drains. (Wire will not be connected to electrical panel and no cabinet supplied)
Bathrooms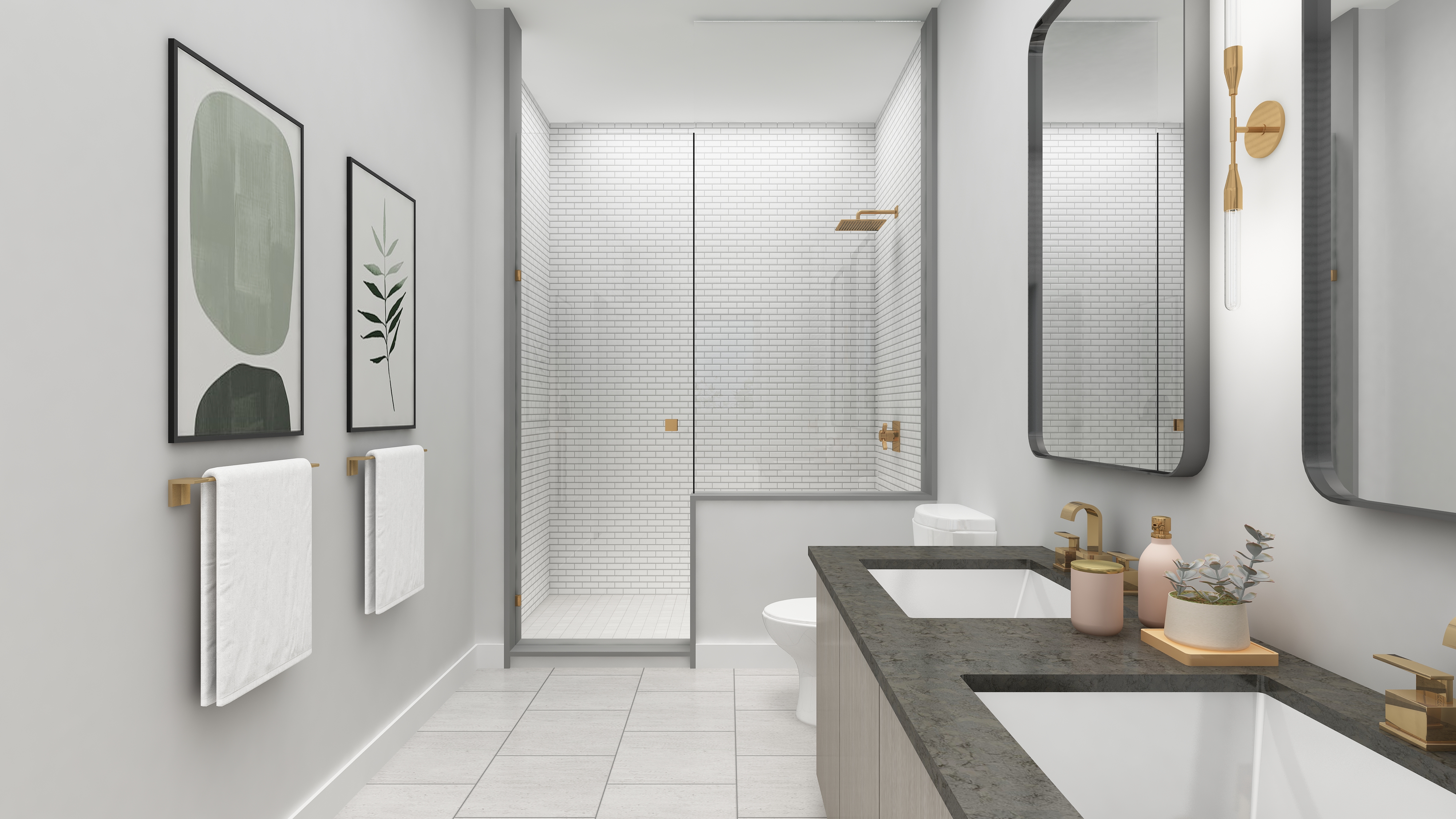 Choose from contemporary and traditional bathroom vanity cabinetry with laminate countertops (from Vendor's standard selections)
Tub with wall mounted faucet in master ensuite with two rows of tile surround, where ensuite includes separate shower, as per plan
Square drop-in lavatory in all bathrooms, excluding powder room
Quality white bathroom plumbing fixtures including sink, tub and toilet
White pedestal sink in powder room, as per plan
Single lever chrome faucet in all vanities with built-in balance regulators
Separate shower stall with waterproof light fixture as per applicable plan
Strip lighting in all bathrooms including powder room
Ceramic wall tiles in all bathtub enclosures up to ceiling, separate shower stall to include tiled ceiling
Cement "Wonderboard" on separate shower enclosure wall(s) and ceiling, as per applicable plan
Pressure balance valve in all bath and shower enclosures
Shut off valves for all sinks and toilets
Low flow aerators on all faucets
Water saving toilets
Low flow shower heads in all showers
Exhaust fan in all bathrooms
Privacy locks on all bathroom doors
Mirrors over all vanities in all bathrooms
Energy Conservation Features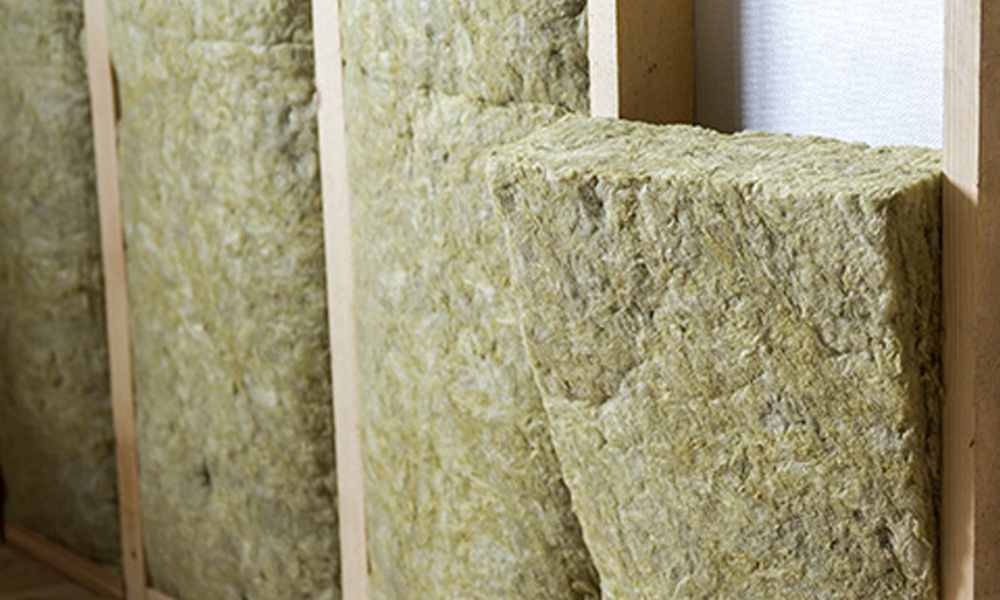 Insulation in full conformity with the Ontario Building Code for conservation of energy
High efficiency, forced air, direct-vent natural gas furnace complete with electronic ignition
High efficiency, gas-fired tankless water heater on rental as per lease schedule
All windows will be energy efficient Low-E Argon gas-filled
Windows and doors sealed with top quality exterior caulking
Thermostat centrally located on second floor
Telecommunications, electrical and mechanical details
200 AMP automatic circuit breakers with heavy duty copper wiring
40 amp energized electrical outlet for future electric vehicle charging in garage, as per plan
White Decora-style light switches, plugs and plates
Two category 5 telecommunication cable rough-ins (locations to be determined by Vendor)
Two RGB coaxial cable rough-ins (locations to be determined by Vendor)
One smoke detector on every floor and in all bedrooms
Carbon monoxide detector provided as per Ontario Building Code
Electrical light fixture to be installed in kitchen, family room, den and all bedrooms (excluding dining/living room)
Switch controlled receptacle in living room and capped outlet in dining room (ceiling location to be determined by Vendor)
Ground fault interrupter protection in all bathrooms and powder room
One electrical outlet in unfinished area of basement at electrical panel
Electric door chime with doorbell at front entry
One electrical outlet in garage and one rough-in ceiling electrical outlet for garage opener, as per plan
Heavy-duty wiring and plug receptacle for clothes dryer
Dryer vent to exterior (location may vary from plans)
Ducting sized for future air conditioning
Rough-in for central vacuum system (terminated at garage)
Floor drain to laundry room (excluding first floor) as per plan. Raised entry may be required
Ventilation ducts are professionally cleaned prior to occupancy
Quality Construction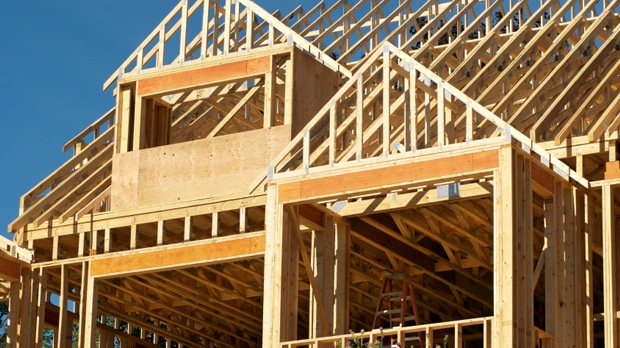 Engineered floor joists, sub-floor sheathing to be nailed, glued, sanded and screwed
2" x 6" exterior wall construction
All finished interior walls and ceilings to be drywall construction
Poured concrete front porch as per applicable plan
Poured 9" concrete foundation walls with heavy-duty damp proofing and waterproof membrane (excluding garage)
Basement "wrap" water-proofing system to be installed on the foundation wall (excluding garage) to prevent water penetration into basement
Poured concrete garage floor
Steel or wood beam construction in basement, as per applicable plan
Double stud party wall construction, as per Ontario Building Code
Warranty
The Tarion Warranty Corporation supports the Vendor with the following warranties:
The home is free from:
Defects in workmanship and materials for a period of one year.
Defects in workmanship and materials for a period of two years on electrical, plumbing and heating distribution systems. Any water penetration through exterior cladding, windows, doors and exterior caulking.
Major structural defects for a period of seven years.
Please refer to the home owner manual and/or visit tarion.com for further details.
General Notes
All references to features and finishes are as per applicable plan or elevation and each item may not be applicable to every home.
Purchaser's choice of interior colours and materials from Vendor's standard samples if not yet ordered, installed or completed, provided that colour and materials are available from supplier and Purchaser agrees to select the colour and materials according to the Vendor's schedule, otherwise the Vendor reserves the right to choose the colour and materials to complete the dwelling and the Purchaser agrees to close the transaction with the Vendor's choice of colour and materials.
Laundry room floors, where applicable, may be lowered to accommodate entry door(s) due to grade at the Vendor's discretion (unfinished basement ceiling height shall be lowered accordingly).
Vendor may, from time to time, as required by it in its discretion and/or by any governmental authority having jurisdiction with respect to the property, change, vary or modify the plans and specifications pertaining to the dwelling (including, without limitation, architectural, structural, engineering, landscaping, grading, mechanical, site service or other plans and/or marketing materials) from the plans and specifications existing at the inception of the project or as they exist at the time the subject agreement of purchase and sale or as same may be illustrated in any sales brochure(s), model(s) in the sales office or otherwise.
The Vendor has the right to substitute materials of equal or better quality.
Purchasers are notified that the number of steps to front entrance and rear entrance may be increased or decreased depending on final grading.
The Purchaser acknowledges that finishing materials contained in any model home, sales office display or digital presentation, including broadloom, furniture, mirrors, electrical fixtures, drapery and window coverings, tile flooring, vinyl flooring, hardwood flooring, marble flooring, upgraded cabinetry, countertops, stained staircase and railing, painting, wall paper, etc. may be for display purposes only and may not be of the same grade or type, or may not necessarily be included in the dwelling unit being purchased.
Room dimensions, door and window configurations may vary with final construction drawings.
All ceiling heights are approximate and may vary. Some ceiling heights will be dropped to accommodate HVAC, plumbing, venting, electrical, mechanical, insulation, bulkheads and other structural requirements, which will result in areas of lower ceilings heights.
Prices, terms and conditions subject to change without notice.